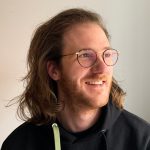 Certifications:
Master of Arts with distinction
NLP-Practicioner (DVNLP)
Born in September 1993, I grew up living above my parents' photo studio. This gave me exposure to composing images and lighting early in life. By following my passion for music, sound engineering caught my interest. After passing the A-level, I decided to move to Cape Town, South Africa for a few months. Living there I gained insight into the way other photographers work, and how big productions are coordinated. By way of internships at TV stations and studying at the University of Applied Sciences in Trier my focus moved from photography to videography. Working as a cameraman, motion designer, and tutor continues to enrich my knowledge of moving images. After increasing my knowledge in Berlin at Jung von Matt/Spree, I moved to Hamburg and started working at Gruner + Jahr. Here I developed myself to Senior Videographer & Motion Designer with the technical lead position for the post-production. Later I started at Harvest Digital Agriculture GmbH as Creative Producer. During the last years I was also speaker at a couple of conferences, jury member for film festivals and lecturer at the University of Applied Sciences Fresenius.